Somatic Bodywork Program Overview
Our Somatic Bodywork Program is designed to facilitate the growth of highly skilled bodywork professionals.  We offer everything one would expect in a bodywork program (e.g. massage theory and practice, human sciences, etc.), but we take this much further by offering content that facilitates your growth as a human being, which in turn makes you a better professional, and provides additional skills to enhance your relationship with clients, which is just as important as having effective touch skills.  The result is enhanced effectiveness with clients and an improved relationship with ones life.
A Biopsychosocial, Interoceptive, & Neurocentric Approach to Massage Therapy
To achieve these goals of both professional development and personal growth, we bring together knowledge and practices from bodywork, somatic psychology, affective neuroscience, and eastern contemplative practices.  Our approach centers around several themes:
Biopsychosocial (BPS):  Our approach to working with clients gives equal consideration to the bio-psycho-social-spiritual components of a session.  We are working with a whole person, not just a shoulder or myofascial tissues….and any physical issue may be influenced by psychological or social aspects of the client's life, which may then become influenced by the physical issue.  Touch is incredibly powerful, and touching the body becomes a doorway to the psyche and deeper aspects of the Self, while the psyche, in turn, determines how the body responds at each moment.
Our BPS approach also means that the effectiveness of any session is affected by how we relate verbally and nonverbally with the client, not just how we apply our touch.
Interoceptive: We care about our clients' internal sense of feeling good more than an arbitrary measure of looking good.  Our focus is to assist the client in feeling as good in their body as they can and feeling able to do the things they want to do, without limitation.
Neurocentric: As bodyworkers, we don't change anatomy. We change the nervous system.  We recognize that everything in a session, from how we touch to how we communicate to what beliefs and feelings the client brings to a session are all interacting within the nervous system to create the changes that occur in a session, whether these are changes in anxiety, pain, posture, or movement.  This means that the clients' issues are probably not in their tissues, which profoundly changes how we engage with the client, manually and verbally.
Mindfulness:  We consistently encourage the enhancement of somatic awareness as an important step towards repatterning ones cognitive, emotional, and behavioral habits, all of which becomes a bridge to Presence or Beingness. As a result, a bodywork session can become a somatic guided meditation–a meditation guided not by voice but by touch.
The integrated application of all of the above can bring about a reduction of negative symptoms, and increased sense of embodiment and aliveness, and can often go way beyond this by helping people re-connect with what really matters to them.
Each week offers a blend of personal growth opportunities, discussions, experiential anatomy, technique and session demonstrations, and both giving and receiving of Somatic Bodywork sessions. There is balanced time for personal inquiry and discovery, individually, in groups, and in paired exercises with Awareness practices, somatic skills practices, and bodywork.
Three Goals of the program
Non-symptom specific to help support general balance, openness, and easefulness in the body.  As you experience novel sensory inputs and come into greater awareness of those somatic inputs, you may gain new access to parts of yourself and feel an increase in a general sense of well-being and functionality.
Symptom-specific applications and approaches for injuries, rehabilitation, pain reduction, and increased function.
Accessing Consciousness. The body is a direct path to what we hold as true and a wonderful vehicle to help release any unnecessary holdings.  As the mind and heart clear, the body heals more easily, and often the reverse is true as well.
Bodywork as Peacework
This program has been designed for the professional development of physically- and psychologically-oriented therapists, as well as personal healing, rediscovery, and celebration.  In our program we work with the relationship between body, mind, heart, and spirit in a dynamic, and often profound, way.
While SB is a professional Massage Therapy Licensing Training it is also a Life Enhancement program. Some of what can change has to do with healing and some with learning and more skillful choices, and some with simply coming to be with things as they are.  From the perspective of the big picture, SB is an integrated program aimed at reducing suffering on the planet, increasing Peace, and helping to bring about a more joyous experience of Life.
At the core of our Being we can experience our essential qualities — Joy, Love, and Presenceful Peace. Through the use of therapeutic touch, heart-centered language skills, and the presence of the therapist and client, we can foster relaxation and healing and discover pathways into our deepest core. As we come to know our Self more fully, living from this knowing naturally occurs more easily and happily.
The biopsychosocial, neurocentric framework can further your effectiveness beyond most touch therapies alone because many client issues are patterned adaptations to a deeper issue.
These tools are all utilized to help relieve suffering, reduce emotional pain and limitations, change patterns and beliefs, and open to the immediate experience of greater freedom now in the experiential recognition of the presence of awareness.  Please note that the program is trauma-informed–please read about what that means here.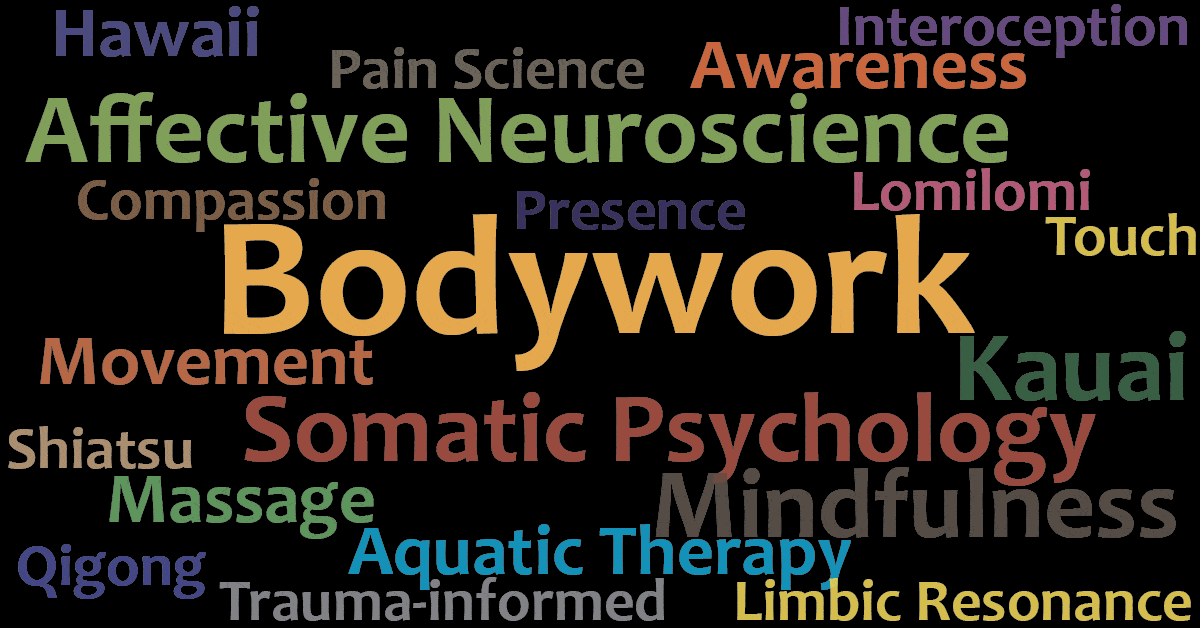 Program Details
Dates: Jan 7-June 28, 2019
Location: Princeville, Hawaii
Hours: 776/800
Schedule: Mondays/Tuesdays/Thursdays, 8:15 am to 5:15 pm (plus Fridays from January through March, clinical internship April through June, and lots of practice outside of class)
Licensing: Our program is licensed by the Hawaii Department of Education and is approved by NCBTMB.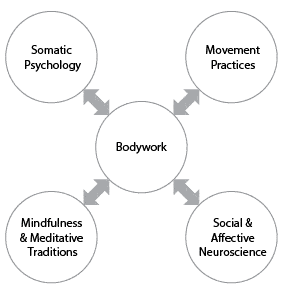 The 776-hour program includes:
Massage Theory and Practice
Human Sciences: Anatomy & Physiology, Kinesiology, Pathology, Neuroscience
Business and Ethics
Communication Tools (derived from Somatic Psychology)
CPR & First Aid*
*Individuals who opt out of CPR & First Aid complete the program with 8 fewer hours.
** Individuals who sign up for Package A (with Aquatic Therapy) may complete the program with 800 hours.
Upon completion of this program you will be eligible to sit for licensing in Hawaii and 47 other states. You will have the skills and knowledge to help people in an enjoyable, beneficial, and professional manner.


Primary Topics
Massage Theory and Practice: A wide-range of modalities are offered to develop proficiency in the full range of touch styles (e.g. gliding vs static vs stretching, superficial vs deep, etc.) for various purposes (e.g. anxiety-reduction vs pain reduction vs embodiment).  Typical options include Swedish, Lomilomi, Shiatsu, NMT, Thai, Connective Tissue Massage, Cranialsacral, Aquatic, and others). Includes Clinical Reasoning, Student Clinic, and Community Service Massage Events.
Human Sciences: Anatomy, Physiology, Kinesiology, Pathology, & Affective Neuroscience, with critical thinking throughout.
Movement and Body Awareness Practices such as QiGong, Thai Chi, and Alexander Technique.
Communication Skills & Presence-Centered Somatic Therapies for bodyworkers, derived from an evolving, trauma-informed synthesis of therapies based on Gestalt, Somatic Experiencing, Interpersonal Neurobiology, NeuroAffective Relational Model, Reflective Listening, Motivational Interviewing, NLP, Hypnotherapy, Breath-oriented therapies, Eastern & Western Transpersonal & meditative Awareness practices, Vipassana, Advaita Inquiry, and others.
Ethics and Successful Business Practices